Submissions Open for 3rd Annual LTYM STL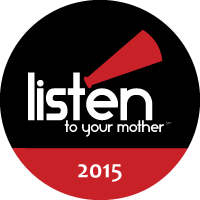 WHAT'S YOUR STORY? Do you have a story or words to share about being a mom, having a mom, or know someone who raised you that make your story unique? Join the national live-reading series giving Motherhood a Microphone since 2008, now in 39 cities!

The 3rd annual LISTEN TO YOUR MOTHER St. Louis seeks a diverse collection of writers (amateurs, professionals, first-timers welcome!) to read their original essays about motherhood at The Emerson Auditorium at St. Luke's Hospital, also known as the Institute for Health Education.
The St. Louis production is scheduled for 11 a.m. and 3 p.m. Mother's Day weekend, Saturday, May 9, 2015. It's a St. Louis tradition–and you still have plenty of time to visit Laumeier Sculpture Park and have brunch with the family.  All ages and variety of writers are invited to submit a story. And yes, non-mothers, men, dads are encouraged to submit their story, too!
Submissions are being accepted Jan 1-February 16, so start writing now.  Everyone will receive an email conformation upon receipt of your story. We will contact those selected for an audition to sign up for a date and time, either Feb. 28, March 1 or March 5, at St. Luke's. 
The Institute for Health Education is located on the 2nd level of the North Medical Building on St. Luke's campus, 232 South Woods Mill Road, 63017, in Chesterfield, MO.
Read more about submission/rehearsal rules right here. 
We're looking for your own humorous, poignant, and soulful words about being a mom/having a mom, not being a mom/not having a mom—every variation on the theme, so long as Motherhood is the star!
Send your story to ltymstlouis@gmail.com with the word your name and title of your in the subject line.
Stories should NOT EXCEED 5 MINUTES when read out loud. Shorter is perfectly acceptable too!
Commitment includes 2-3 rehearsals TBD in March/April, and availability for two shows, 11 a.m. and 3 p.m., on show day May 9.
Videos, links, updates, and lots more info can be found on our website listentoyourmothershow.com/StLouis, so visit often.
Start the New Year off right–give your story a voice and join this national movement to give motherhood a microphone.